285
Housing complex at Treviso

Residential housing construction – 28 quality apartments – Treviso
Year: 2016
Planning and worksite manager: Arch. Desiderio Voltarel – Lancenigo (TV)
This project sees construction of 2 residential buildings, for a total of 28 apartments, set on three floors above ground.
The apartments boast outstanding architectural quality, ample spaces and windows covering large areas.
One of the most important requirements of this project was a high level of acoustic comfort, bringing the building within Class I of the technical standard UNI 11367 "Acoustic classification of real estate" (R'w ≥ 56 dB – L'nw ≤ 53 dB).
To comply with this standard a "box in the box" construction method was used, with concrete and hollow brick flooring and false ceilings hung using sound dampening MASTERGIPS BLUE and SOUNDBLOCK panels affixed with DIN STOP antivibration hardware. DYNAMIC LINE impact sound dampening sheeting was installed underneath the floor heated paneling, prior to laying FLEXO perimeter strip.
All walls which separate every unit were built using double layers of sound dampening plasterboard, 2 sheets of MASTERGIPS BLUE and 4 sheets of SOUNDBLOCK.
By using these layers the amount of wall sound dampening achieved was measured as R'w = 61 dB, while standard floor impact sound levels reached L'nw = 38 dB, numbers that are far superior to the Class I limits set at planning stage.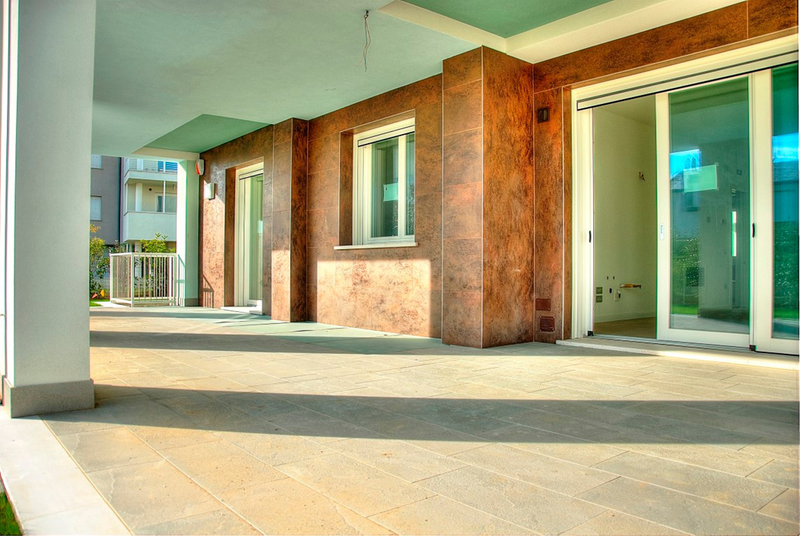 Test reports of note are available.