666
Eterno Ivica, always involved throughout the national and especially international territory, does not give up emphasizing its presence in numerous projects and events.
Below is the collection of the main activities carried out during the month of June.
Event "Friends of Oris"
Eterno Ivica made his contribution to the "Friends of Oris" event which took place on 4 June in Zagreb. The event, organized at a time of still difficulty due to the world pandemic and following the earthquake that hit the city hard on March 22, has been a symbol of hope and optimism for all.
Oris House of Architecture has invited over 70 renowned architects and photographers from all over the world to participate in the exhibition. Their response and contribution have been a sign of collaboration and hope for a better future, as well as a confirmation of excellent cooperation in presenting contemporary architecture in the Oris magazine, Oris House of Architecture and at the Days of Oris symposium.
For this reason Eterno Ivica was thrilled to have given its contribution for an event of such great importance and with a message full of important meanings.
Pedestal - outside area of ​​Aubade in Rhône Alpes
Pedestal supports for the outdoor area of ​​the Aubade store in Rhône demonstrating how easy and fast it is to create a safe and stable raised flooring with the use of our supports. In fact, a flooring of this type has numerous advantages, among which the ease of inspection of the laying surface, the speed of installation and it allows to hide perfectly the pipes and systems below.
Ca' di Dio - Venice
Eterno Ivica is contributing to the realization of an important restructuring with change of intended use in Venice. The structure, which for years has been a residence for the elderly, is about to become a new luxury hotel of the famous Spanish chain Melià. The hotel will occupy an area of ​​4 thousand square meters and will have 66 rooms and junior suits, two restaurants, a spa and three gardens.
Eterno Ivica has supplied numerous products of its Acustica line with the aim of acoustically insulating the internal spaces of the entire structure, in particular by supplying the Dynamic Line anti-impact mattresses, plasterboard sheets for walls, Mastergips Blue and Soundblock and Flexo and Din Stop accessories.
Work in progress at Mediterraneo camping in Jesolo
The works of an important construction site in a prestigious camping in the Cavallino area a few kilometers from Jesolo, the Mediterraneo Camping Village, are nearing completion.
It is a village that for over 50 years has been offering its customers stays in complete tranquility, nature and fun in the shade of the fresh and lush pine forest in which it is immersed. But this year the camping has reached an important milestone: it has acquired the much sought-after fifth star thus raising its quality standards to offer an even more special holiday.
This important recognition comes together with the creation of Le Terrazze del Mediterraneo: a seafront area consisting of a 2000sqm water park and a complex of three multi-service buildings, aimed at enhancing and expanding the structure's offer.
And it is precisely here that Eterno Ivica has given its contribution with numerous Pedestal supports and through the use, for the first time, of the new crosshead for joists on a portion of the pavement.
But we still don't want to reveal everything .. stay connected, very soon we will be able to show you the entire work completed!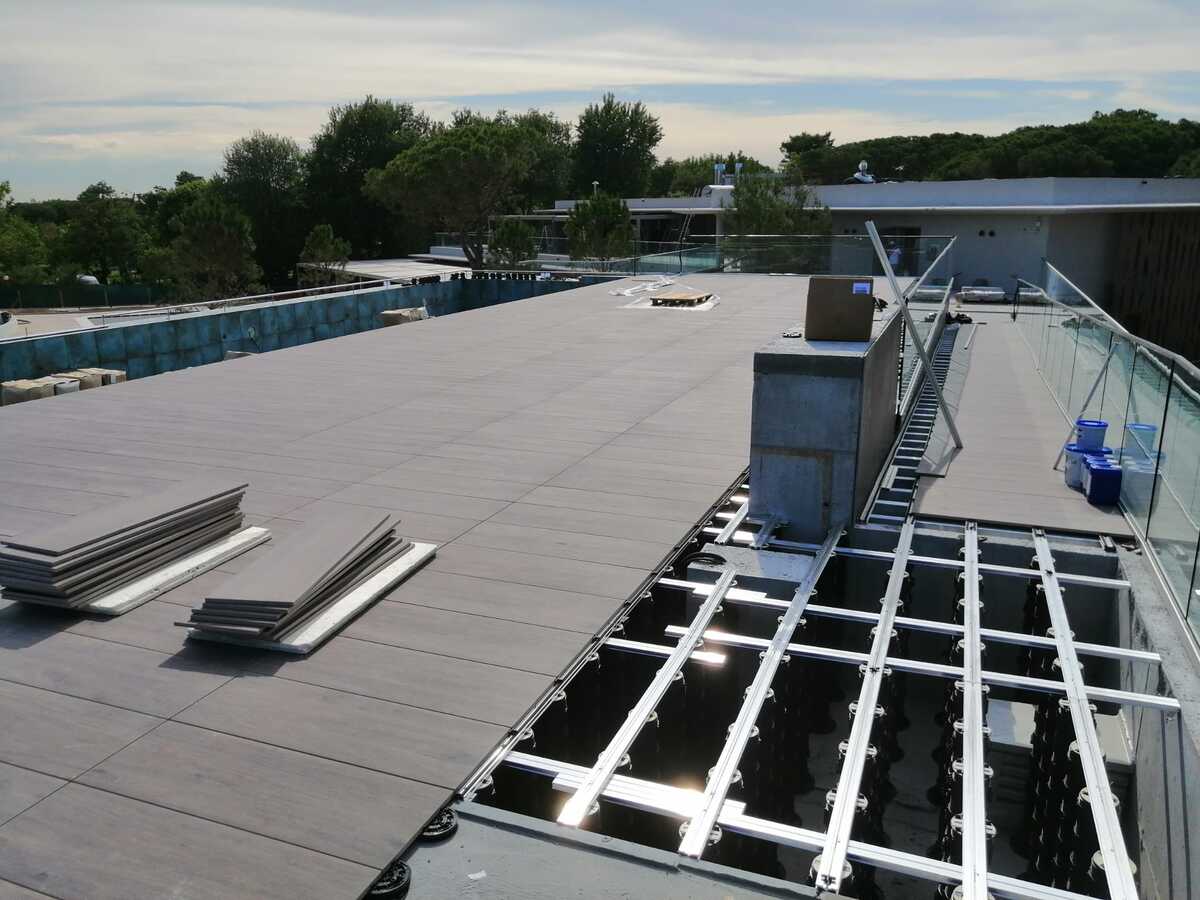 Press conference ESOF 2020
The press conference of ESOF 2020 took place on 30 June to present the detailed program of the event to be held from 2 to 6 September. The event - EuroScience Open Forum - takes place internationally every two years and is a general conference on the scientific world, research and innovation. Here we will be present with our Phonolook panels. Stay tuned for more information!