REQUEST INFORMATION
Ask for information now. You we'll be contacted by an our appointe near to you.
Silentetto TXT Soundproofing Panel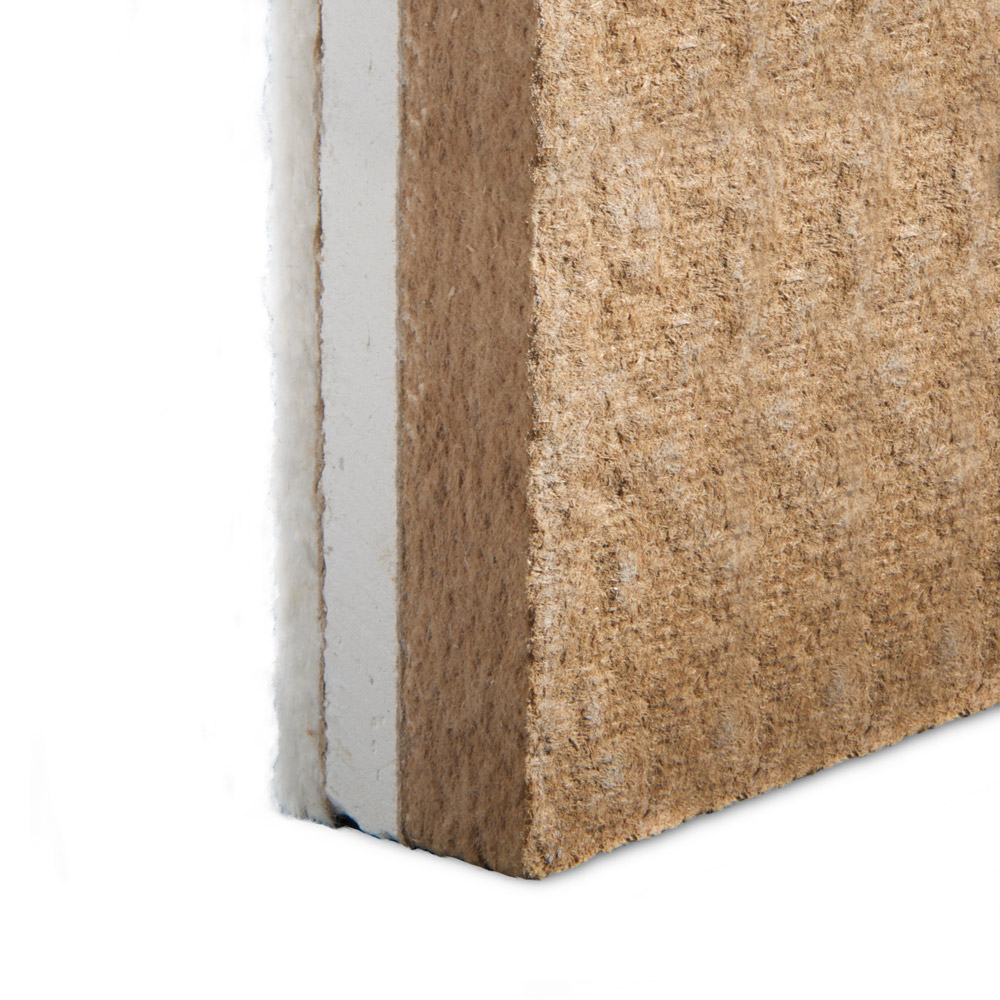 Silentetto TXT is a high-performance soundproofing panel designed to reduce the passage of noise in roofs with a wooden structure.
Thanks to its composition consisting of materials of different density and elasticity it is set up as an important acoustic package, also functional to the achievement of excellent thermal insulation results for an ideal living comfort.
Soundproofing panel SILENTETTO TXT thickness of 40 mm and a mass per unit area of 17 kg/m2, CE marked according to the UNI EN 14190, obtained from a plaster coated SOUNDBLOCK board with thinned edges coupled to a sound-resistant element in TXT 7 mm thick on one side and by a wood fiber panel 250 kg/m3 and 19 mm thick on the other. The product TXT, in recycled raw material which can be recycled in turn at the end of life of the building, is made of noils of white colored fabrics, obtained from a sanitized and sterilized mixture of filaments of cotton, linen and wool, maintained by means of adhesive  polypropylene. 
The materials that constitute the panel help to increase the thermal insulation provided by the mineral wool or wood fiber which will be laid according to the thickness provided by the heating engineer designer.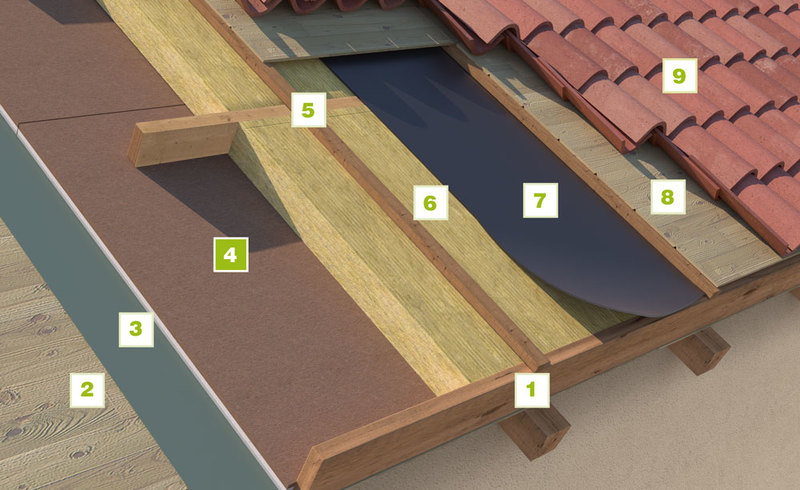 Beam
Wooden boards
Steam barrier

SILENTETTO TXT

Joists
Mineral wool or wood fiber min. 150 mm thick
Breathable waterproof sheet
Wooden boards
Shingles / roof tiles
ADVANTAGES
Heavy soundproofing panel designed to increase the mass of wooden roofs.
The resilient element TXT, together with the SOUNDBLOCK slab board, in synergy with the roof board, allows you to create the fundamental mass-spring-mass effect.
Contributes to the thermal insulation of the wooden roof.
INDICATIONS OF INSTALLATION
The soundproofing SILENTETTO TXT panel must be laid continuously directly with the white TXT felt in contact with the wooden boards, with the wood fiber facing upwards. The panels must be perfectly matched and mechanically fixed to the substrate.  
The thermal insulation must be applied above the panels, preferably mineral wool or wood fiber, with the thicknesses provided by the heating engineer designer. 
The use of non-fibrous materials such as polystyrene and polyurethane should be avoided as it allows to achieve high thermal insulation, but bad acoustic insulations. In order to ensure the best acoustic performance, after the thermal insulation laying, a second wooden board will have to be applied. In the positions defined by the heating engineer designer, there must be for seen steam brakes and / or the high breathability sheets and / or the bituminous waterproofing sheaths.
TECHNICAL DATA OF THE PRODUCT
Superficial hardness
Resistance to longitudinal bending
Resistance to cross bending 
Thermal conductivity λ
Water vapour resistance factor μ
< 15 mm 
(imprint of the ball on the plasterboard side)
550 N
210 N
λ = 0,055 W/mK
µ = 5
| Código | Format | Dimensions | Thickness | Weight |
| --- | --- | --- | --- | --- |
| L020182437 | pannello | 1,20 m x 2,0 m | 40 mm | 17 kg/m2 |
Solicitud de información sobre: Silentetto TXT Soundproofing Panel